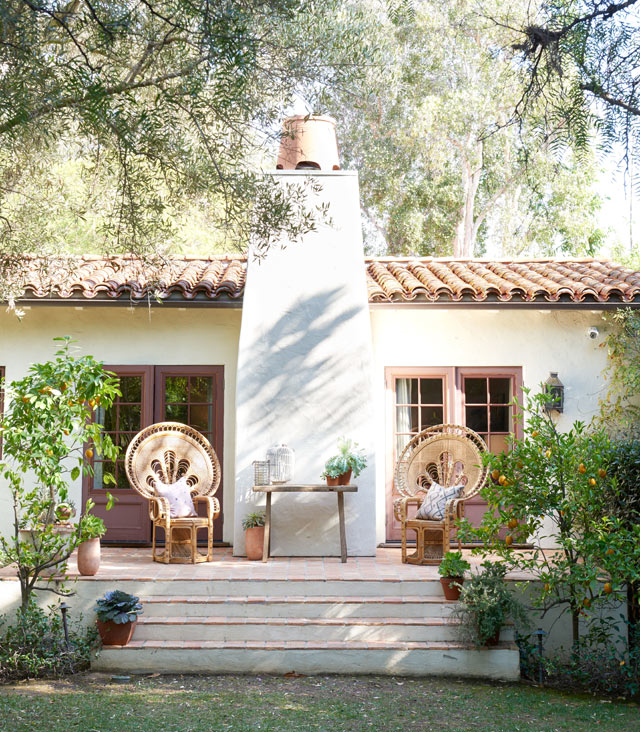 The California home used as the set of Home Again: Photo by Amy Neunsinger

To say Nancy Meyers's films have a cult following may be an understatement. The director, screenwriter, and producer has created a laundry list of successful movies, including The Parent Trap, Something's Gotta Give, The Holiday, It's Complicated, and The Intern - and in 2000, What Women Want took in $183 million in the United States, making it at the time the most successful film to ever be directed by a woman.

Last week, Meyers added yet another film to her portfolio, but this one is especially notable: Home Again, starring Reese Witherspoon, is her 30-year-old daughter Hallie Meyers-Shyer's directorial debut, and Meyers served as producer. (The flick came in second at the box office its opening weekend, just after Stephen King's It, making $8.5 million in three days.) Like the majority of Meyers's films, it's a romantic comedy with a strong female lead, and the set - especially the main character's home, which is a Spanish-style hacienda this time around - could practically serve as a supporting cast member. But while Meyers is known for her neutral palettes and perfect vignettes of accents, Meyers-Shyer added a bolder feminine palette this time around.

We talked to the mother-daughter duo on weaving in classic set elements of quintessential Meyers films, collaborating together for the first time, the importance of Pinterest, and how Meyers-Shyer's fresh take on the prototypical romantic comedy set may be just what Home Again needed.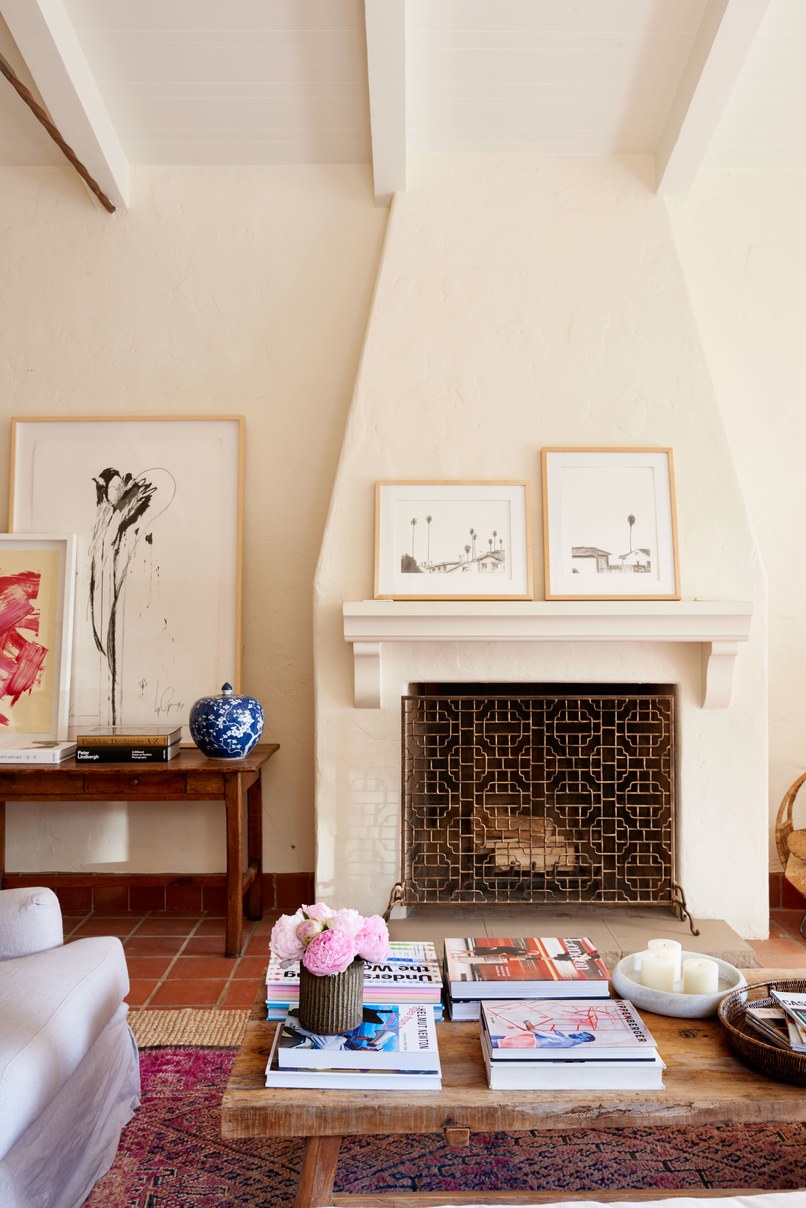 The living room area of Home Again: photo by Amy Neunsinger
Architectural Digest: What was your inspiration for the set design? Any real places or things? Was there a house in mind?
Hallie Meyers-Shyer: My inspiration for this story started with [Witherspoon's] character of Alice. I wanted to center a film on a woman who was just separated from her husband and feeling like she needed a change in her life. This comes into play in her house as well. I feel in some ways we wanted to give Alice the house she's always wanted and use the bold feminine palette she's always desired. This is her first house without her husband, so we really wanted to make it feel entirely hers.
Nancy Meyers: The house plays a large role in the movie. It has a Hollywood history; it once belonged to our main character's father in the 1970s and still holds a lot of his memorabilia. This house had to be a location Alice has dreamed of returning to, a place the three boys never wanted to leave, and once Alice's ex-husband arrives, he too wants to stay. It's a comforting location and a warm space that well represents Alice.
AD: What were you trying to convey to the viewer? What kind of vibe?
HMS: I had a specific look and palette in mind for Alice's house. I wanted the house to have a a laid-back, cozy California feel with hints of feminine colors. We used pinks and oranges whenever we could, which mixed nicely with the neutral palette of the Spanish-style house. I knew I wanted a Spanish-style house because it needed to be a place you could only find in Los Angeles.
Ellen Brill, the production designer, and Nicole Cates, the set decorator, worked so incredibly hard to achieve this look, and Pinterest was an amazing way for us to communicate with each other. Also, I learned from my mom how important it is to make sure the house looks lived-in, especially with two kids in the house. She made sure we had toys around, mail on the counters, books on the nightstands. Your home reflects your character in every way, and it should on film as well.
NM: I followed Hallie's lead and tried to help her execute her vision for Alice's home environment. She was incredibly specific, and I saw how that helped everyone on the film give her what she was after.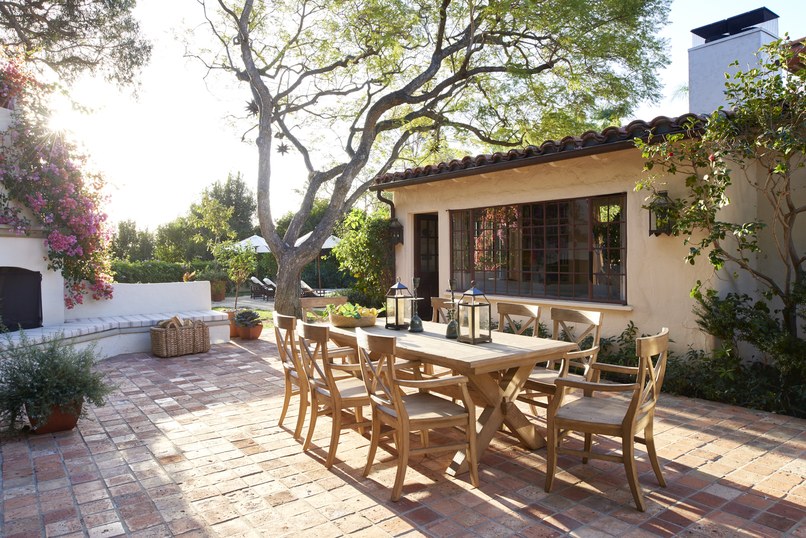 Pottery Barn outfitted the outside area of the house in Home Again: photo by Amy Neunsinger

AD: With The Intern, Nancy said she used Pinterest - with this movie, how did you cull design ideas?

HMS: I have to say, I think I introduced my mom to Pinterest.

NM: True! I used to have huge wall-size bulletin boards in my office in the pre-Pinterest days, and then Hallie introduced me to Pinterest one day and that changed everything.

HMS: I knew my mom was a very visual thinker and would love using Pinterest as way to not only pull images for her characters, clothes, interiors, and cinematography, but also as a way to communicate with those departments and clearly share ideas with one another. It's a real resource for a filmmaker. We all shared images; we would even share images of what we didn't want. You can never be too specific!

AD: Because Nancy Meyers movies-and surely now Hallie Meyers-Shyer movies as well are known for their meticulously thought-out sets, what rooms were the most important for you to have perfectly right?

NM: I'm not sure it's important to get sets perfectly right- it's just important that the set decorator doesn't get it wrong. I remember on my first movie, Private Benjamin, I arrived on the set of Judy Benjamin's childhood bedroom and saw there were photos on the wall of Goldie with her hockey team. I thought: 'Uh-oh... Judy Benjamin was not on the high school hockey team...' That was a good lesson in how important it was to communicate story and character to everyone working on the film.

HMS: I think Alice's bedroom was probably the set that says the most about Alice. There's a difference between a bedroom you share with another person and a bedroom that's only yours. Both nightstands are hers; everything in it reflects her. And we had specifically chosen light pink sheets for her bed because we thought that would be funniest when Harry, Alice's younger love interest, wakes up in her bed... solo.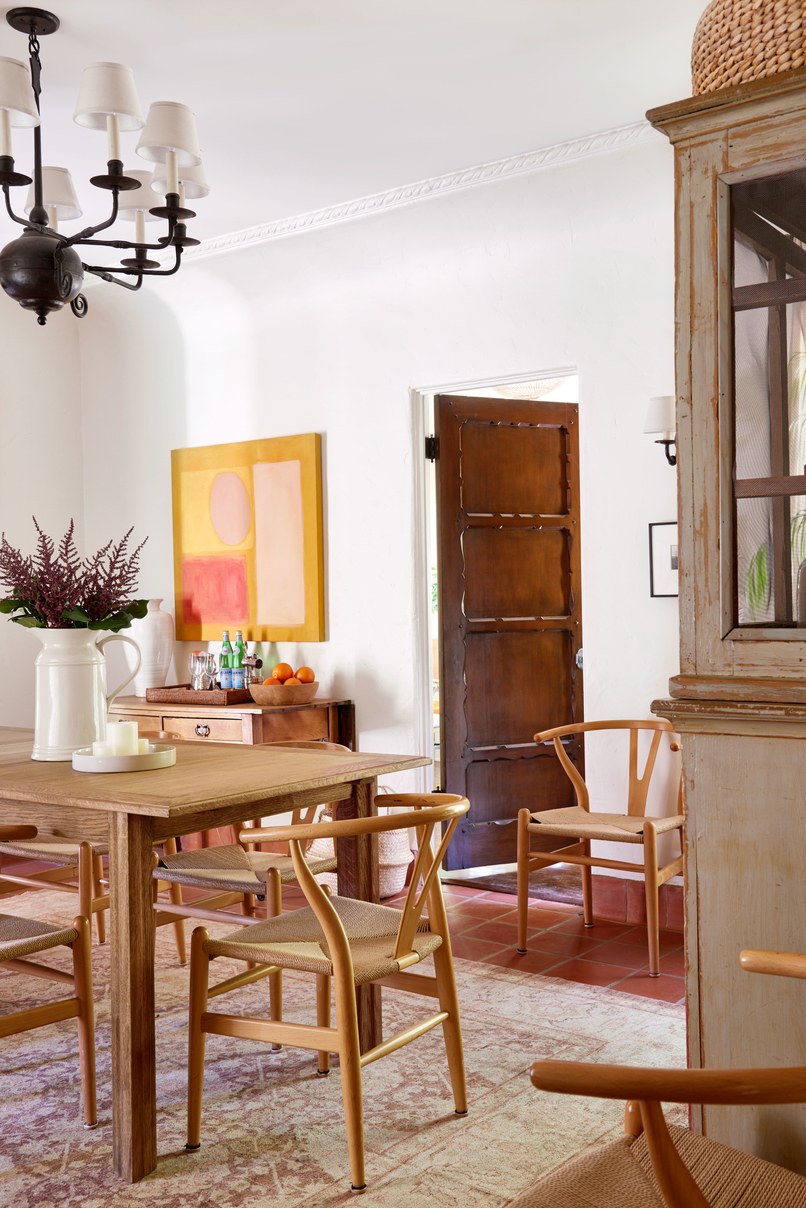 The dining area of the Spanish-style home in Home Again

AD: Are there any little items that you think make a big impact, or may go unnoticed to the viewer but you think say something secretive or interesting about a plot line?

HMS: There are a few items scattered around that are also in the 1970s flashback that opens the movie, which I think very few people will notice. The peacock chairs outside Alice's bedroom, the fireplace screen in her living room, and the vintage movie posters. We wanted Alice to have kept a few sentimental items of her father's, and we integrated them into her space.

NM: I believe Hallie's "think pink" concept going into this makes a lovely impact on the audience. It's fresh and feminine and clearly has a point of view.

AD: Did any of the cast members fall in love with something from the set to the point that they tried to take it home with them?

HMS: Alice's headboard seemed to be a favorite set piece, but I actually kept it for myself! We made it out of an antique Peruvian rug.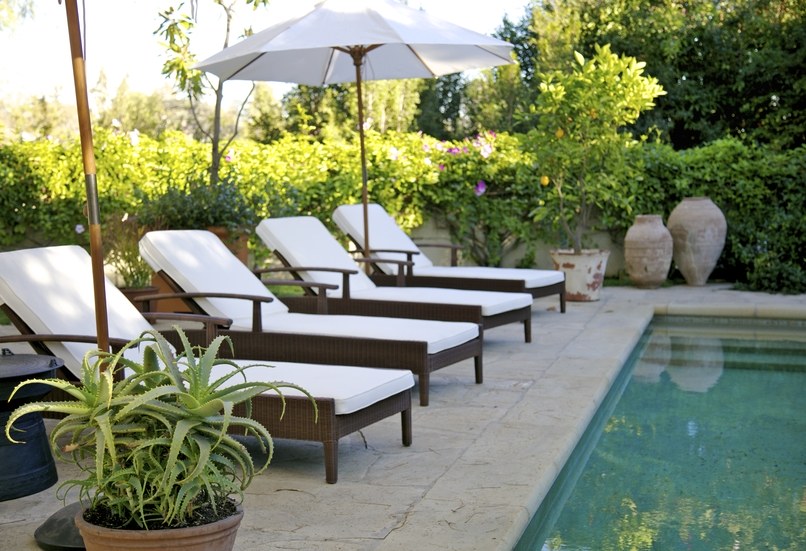 Lounges from Pottery Barn surround the pool area: Osceola Refetoff

AD: What was it like working as a mother-daughter team when considering what the sets would be like? Did you throw ideas around from memories that you shared? Nancy, what was specifically important to you? Hallie, what was specifically important to you?

HMS: Early on, I shared the direction I wanted to go in for Alice's house and Alice's taste with my mom, and she totally got it, loved it, and really added to it. We started sharing images that felt like the character, lots of color, lots of pinks and wicker furniture. We loved creating this home together-it was so fun to collaborate and amazing to see how much the sets can be an extension of the character and how much thought goes into filling every frame.

NM: I loved that Hallie had such a clear direction for Alice's house; after all, most of the movie takes place there. She wanted something that worked in the 1970s when Alice's dad lived there and of course would work now as well for Alice and her young family. And infusing all of the color was a great idea. I'm more of a beige person, so I loved diving into Hallie's palette. Just loved it.

-------------------------------