As is so often the case in a Nancy Meyers movie, much of the action in the romantic comedy "Home Again" (co-produced by Meyers and written and directed by her daughter, Hallie Meyers-Shyer) revolves around a meticulously styled home.
So it's no surprise that actress Reese Witherspoon shares top billing with the picture's 1929 Spanish-style hacienda in Brentwood.
"The house is like a character in the film," says production designer Ellen J. Brill. "That's what happens in Nancy Meyers movies."
But this is not a big-budget Nancy Meyers film.
"We were on a limited budget," Brill says. "But Hallie knew that she wanted a very light and bright feel to the place. She wanted it to feel very much like California."
Brill says Meyers-Shyer also wanted a Spanish-style home, which meant she and set decorator Nicole Cates had to balance the dark architecture with the warm and cozy feel the writer-director wanted.
The interiors are refined and relaxed, with soft touches of pink, blue and white striped textiles and a nice mix of rustic, Midcentury and bohemian accents.
Warm, modern, comfortable - this is California living at its best.
"That's the fun part," Brill says of the eclectic decor. "Show personality. No one likes the exact same thing for very long."
Here's how Brill created the warm interiors:
In the pink
Touches of pink - cushions, rugs, throws and textiles - soften the home's terra-cotta floors, iron and carved wood doors. "We wanted to make it livable and fun and feminine, because [Witherspoon's character] is now back on the West Coast and she is single again," Brill says. "This is her new beginning." Brill created the colorful headboard in the master bedroom using two rugs from Raoul Textiles at the Pacific Design Center.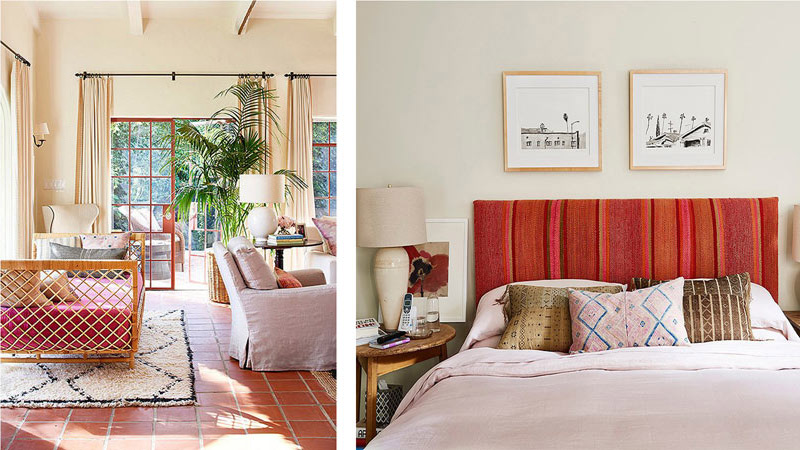 Blue and white accents
In the kitchen, bold blue and white tile contrasts with whitewashed Shaker-style cabinets. Because of the film's lower budget, Brill covered the home's dated tile with vinyl. "Blue and white always works," she says. The countertops are also fake. "They were a bullnose countertop, so we placed contact paper on top to make it look like butcher block," adds Brill.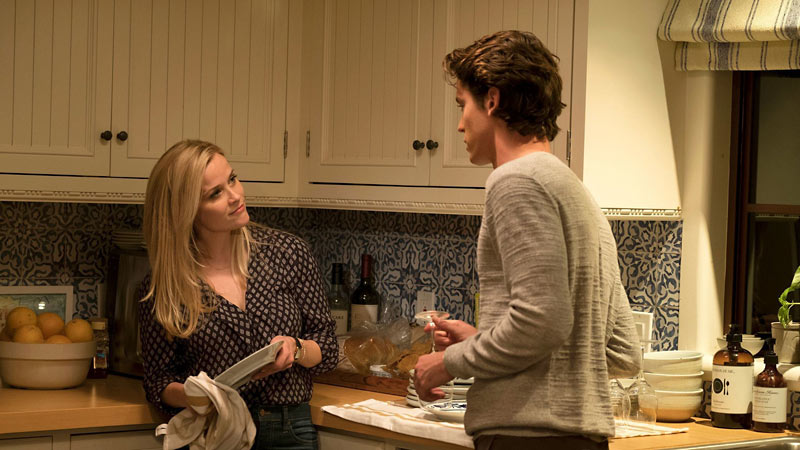 Blue and white tile makes a statement in the kitchen. (Karen Ballard / Open Road Films)




Classic stripes

Striped decorative fabrics, rugs, shades and pillows give the West Coast interiors a traditional East Coast touch.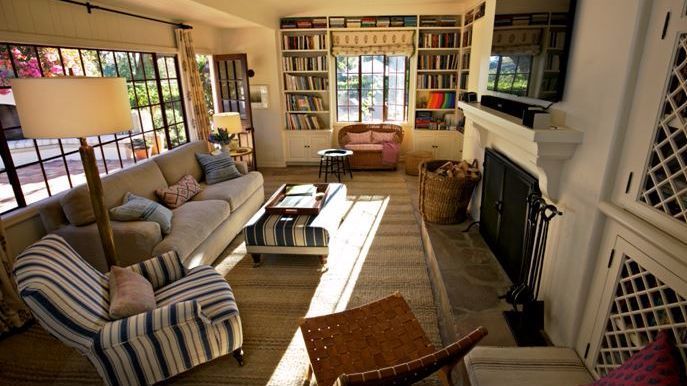 Blue and white textiles give the TV room a classic feel. (Amy Neunsinger)




Wicker and rattan

Wicker and rattan from Lost and Found, Dovetail, Nickey Kehoe and Meridith Baer home staging and furniture leasing give the interiors a youthful quality. "Texture was important because we had such a neutral palette," says Brill.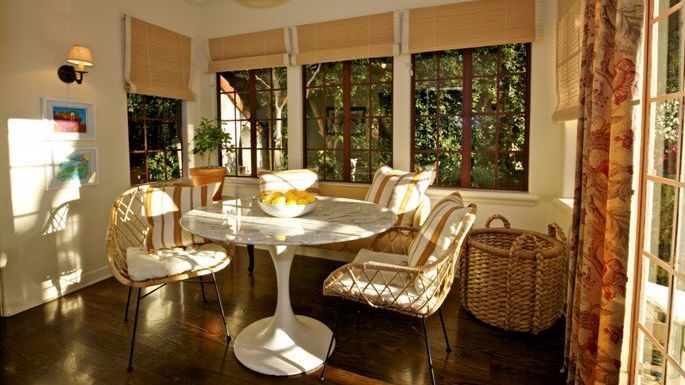 Yellow and white striped cushions soften a marble-topped Saarinen dining table, (Amy Neunsinger)




Swedish farmhouse

To avoid a dated shabby chic look, Brill went with vintage farmhouse furnishings you might find at Lief (they are actually from a prop house) in a lighter palette. "We didn't put a lot of dark things in the house," Brill says. "Antiques with a good patina always work."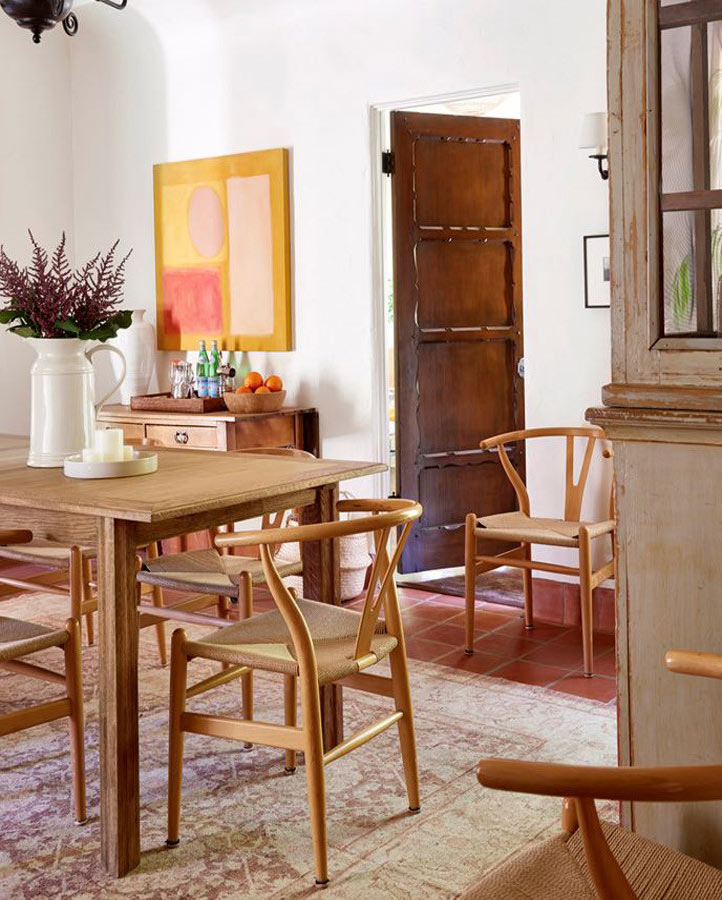 The dining room features Hans Wegner wishbone chairs. (Amy Neunsinger)




Spanish-style architecture

The five-bedroom 1929 Spanish-style hacienda in Brentwood has a celebrity-filled history. Previous owners include Cindy Crawford (and featured in Elle Decor magazine), along with Jennifer Garner and Ben Affleck.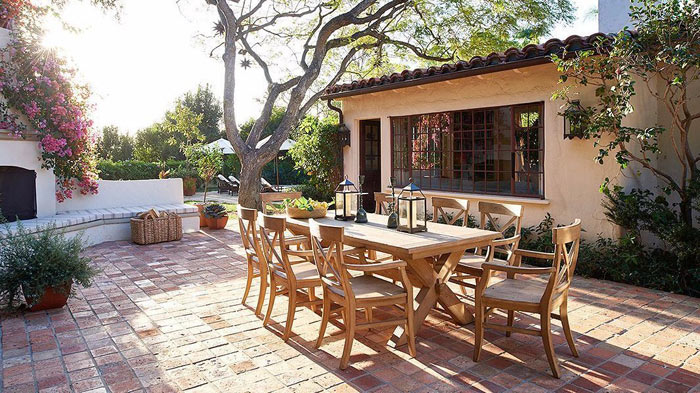 The outdoor teak furniture is from Pottery Barn. (Amy Neunsinger)

-------------------------------